Working...

Math Assignments
Read carefully and follow the step-by-step directions to complete your assignments and activities.
Thursday, January 15, 2015
1.Chapter 10 Test. Units of Customary Measurement. Click Here to login to your test. You Will Do Great! :-)
*Assessment Password: zack
2. The Arcademic Skill Builder image you see below is a link to a fun website with lots of math games. Click on the image and you will be directed to as new screen. You have worked hard! Enjoy a little game time!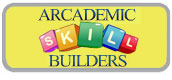 Friday, January 16, 2015
1. Please Click Here to view your activity. If you experience troubles viewing the activity log on to your Think Central account and try again.
Science Assignments
Thursday January 15, 2015
1. Assignment: Please continue and complete your Lung Volume #2 Lab.
Friday, January 16, 2015
1. Please Click Here to view the assigned YouTube video title, "The Respiratory System." As you watch, on a notebook piece of paper, please record 10 important facts you learned from the video. If you make it to the end without 10 facts go you may go back to the beginning and watch it again.
2. Once you finish your 10 facts assignment it is now your turn to search YouTube and find a short video on the topic of Lungs or the Respiratory System. Share it with me by emailing me the link (URL address). Example: https://www.youtube.com/watch?v=hc1YtXc_84A Remember, you find this at the very top of your screen.
MTSS Activity
1. Click Here to view your MTSS Activity! You may choose + , - , X , / at any level .